2005-02-05 13:37
---
what blogging is all about
Sat Feb 5 13:37:38 2005
Well, strictly speaking, it isn't my cat, but i think it's close enough. Taken with digital zoom on the nokia 6630, mostly to show that "cameras have lenses", by counterexample.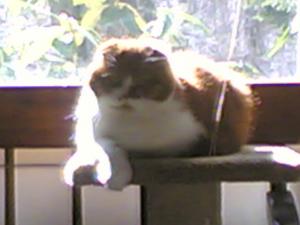 ---
Early Snow!
Sun Nov 14 03:41:30 2004
It snowed on Friday and into Saturday night - leaving a snow covered but sunny day on Saturday. So much for getting the leaves raked this weekend :-)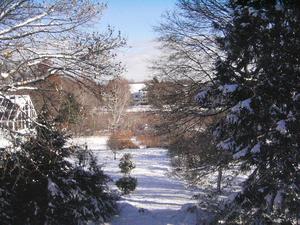 ---
Butterfly!
Sun Aug 8 22:53:51 2004
Walking around Concord Depot, saw this classic butterfly. I didn't get any good pictures of it in flight, it would hop to the next flower somewhat faster than my picture-taking-reaction time. It coordinates nicely with these particular flowers :-)
---
more moon shots
Wed May 5 04:21:28 2004
Tonight the moon was bright and the sky was clear, so I pulled over on a dark section of Trapelo Road on the way home and took some more pictures. I think this is one of the better ones so far. Don't forget to look for Comet NEAT C/2001 Q4 which first appears tonight and is visible until the end of May...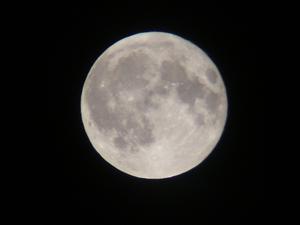 ---
moon over cambridge
Fri Apr 30 04:13:15 2004
I noticed the Moon on my way home last night, and decided to experiment with the camera a bit more. The key tools here were (1) fixing a low ISO number (2) fixing the white balance (3) setting an exposure compensation of -2 (4) forcing spot, rather than "evaluate", metering (5) actually using digital zoom to evaluate the focus and brightness (6) leaning the camera against something steady (the truck dashboard.)
So, the picture was taken (1) from inside a truck (2) through windows with metal wires in them (3) through an intersection with streetlights and bright LED traffic lights. I'm pretty happy with it in spite of all that :-)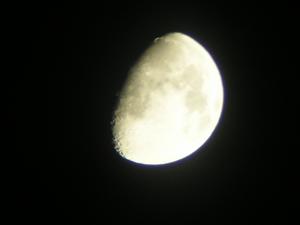 ---
Good restaurant - frightening chandelier
Sat Apr 24 03:11:06 2004
Like the Saugus "Naked Fish", the Sudbury "Sierras" Mexican restaurant has a truly special chandelier. The food is good - comparable in many ways to Casa Mexico, but a little louder, and no magic coffee - not far off Rt 62, not too hard to find - but the chandelier was truly photo-worthy (compare to the "Thu Feb 13 11:39:48 2003" entry below.)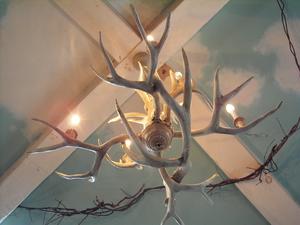 ---
meeow!
Sat Apr 24 02:54:21 2004
Seen in traffic near The Circles Of Death (while stopped at a light.)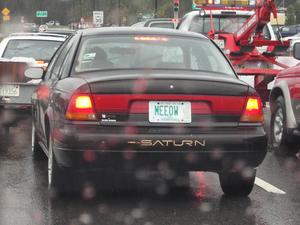 ---
Butterfly!
Sat Apr 10 23:33:04 2004
Out walking on a Concord Land Conservation Trust trail a few blocks from my house, saw this butterfly (which kept coming back to pose, this is a zoom in of one of several pictures I was able to get. The wing shape looks like a Comma or Question Mark - that's the closest picture-match in Butterflies through Binoculars, at least.)
---
Mud and Bugs???
Sat Mar 20 21:06:37 2004
Saw this on the shelf at Crosby's. Really. I am not making this up. Apparently it involves chocolate cereal and colored marshmallows...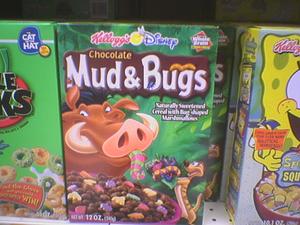 ---
Cat prints in snow
Thu Mar 18 11:37:27 2004
Two days of snow shows some evidence of a neighborhood cat..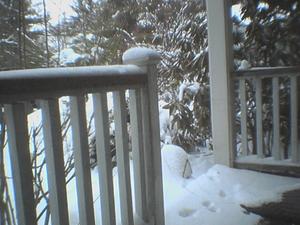 ---
Snow!
Tue Mar 9 11:30:27 2004
The 60+ degree weather last week was just a joke, it is still March...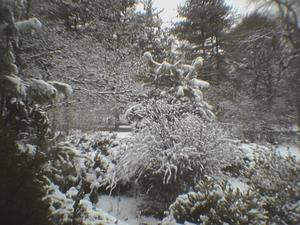 ---
Shelves!
Tue Jan 13 12:08:43 2004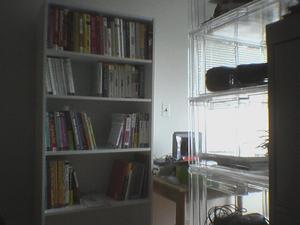 ---
pda toys
Fri Jan 30 15:19:25 2004
s55, nokia 6600, S100 - mostly for scale...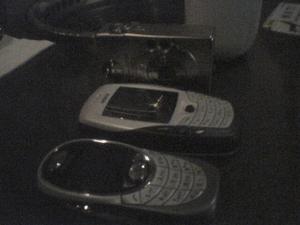 ---
Just Waiting...
Thu Sep 25 12:21:09 2003
I came downstairs this morning, and found an unfamiliar cat camped out on the porch... the picture almost framed itself, with the railings and birdhouse.
The cat vanished before I got outside, but didn't notice my picture taking at all...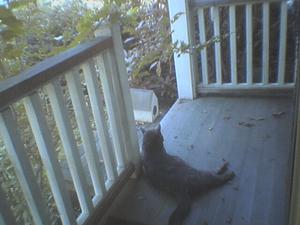 ---
Good morning, midnight!
Tue Sep 16 11:47:20 2003
It must be getting cooler out, the cat next door was out and about. Munching on the lawn, too :-)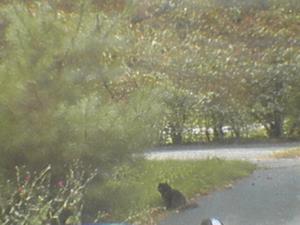 ---
oh look, another wedding
Mon Aug 25 13:18:57 2003
This one is next door, looks like the same tent though.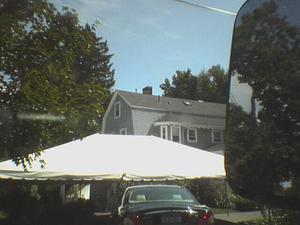 ---
Mooseburgers!
Sat Jun 28 15:45:35 2003
We went back to Salt for dinner... mooseburgers and entrecôte of moose, and panacotta w/cloudberries for dessert. Mmmmoose!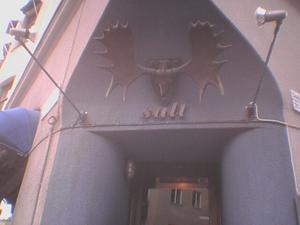 ---
Heute haben uns das Stollwerck Shokolademuseum gehsehen...
Sun Jun 22 11:04:26 2003
We spent the morning walking along the west bank of the Rhine, taking pictures. About a mile south we saw a museum built in the shape of a ship, with mechanical-looking things in the windows. It turns out that Stollwerck is a local chocolate maker with centuries of history behind it, so they have their own museum. The new wing has a complete processing and wrapping facility - I took lots of pictures and video clips. They also have a greenhouse (with airlocks!) and a chocolate shop on site. It's a little corny, but you can see why they call it a "Mmmmuseum" :-)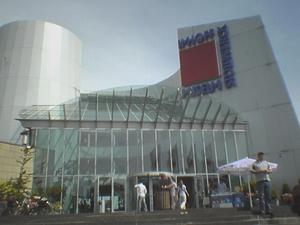 ---
Svenska Pizza Kitchen!
Wed Jun 18 16:52:24 2003
I finally got here, after various unsuccessful attempts over the years. Tasty "pizzor" w/asparagus and shrimp, mmm.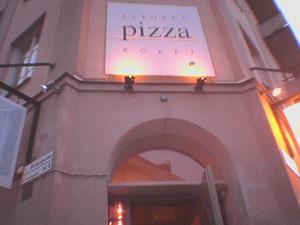 ---
Incongruity
Thu Jun 5 12:06:18 2003
Looked out my front door and saw this. The tent looks larger than I thought their lawn was. Not sure the picture captures it...
---
Even Smaller Camera...
Sun May 25 20:40:35 2003
Ruth got the "altoids cam" :-) This is notably lighter as well as smaller than the S200, but has a comparable screen and lens (the lens assembly *isn't* smaller, so the proportions look odd compared to the canon.)
The UI is a little strange, but I was able to find things without docs. Definitely tempting, but not just yet - need to compare it head to head with the Canon SD100 first...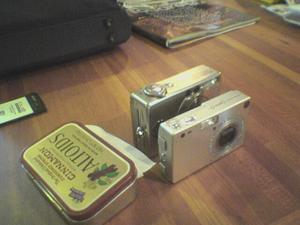 ---
Mmmmeat!
Sat May 24 01:57:45 2003
Midwest Grill, for mike's flee-the-country party. The "hilt" of each sword is actually a gear, which rests in the track and is probably driven by a worm gear. Also rather high airflow - the sign on the side of the building is actually painted on one of three chimneys.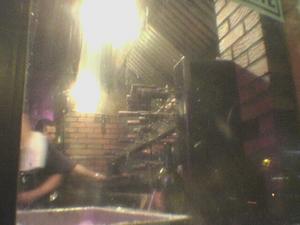 ---
Make way for duck... err... that's no duck!
Fri May 23 14:08:19 2003
Switch engine crossing (pushing a handful of boxcars and a caboose) at Fresh Pond Circle. No signals here, just a policeman.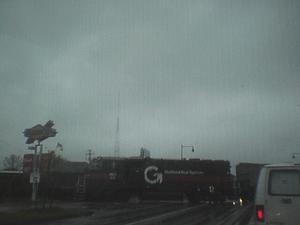 ---
Make way for duck... err... that's no duck!
Fri May 23 13:46:11 2003
Switch engine crossing (pushing a handful of boxcars and a caboose) at Fresh Pond Circle. No signals here, just a policeman.
---
Kabloom!
Fri May 2 17:37:23 2003
Many of the daffodils have started blooming - all-yellow, white-orange, yellow-orange, and small yellow ones. More seem to be up and green as well. I'm glad Laura was around to see the results, instead of just pictures :-)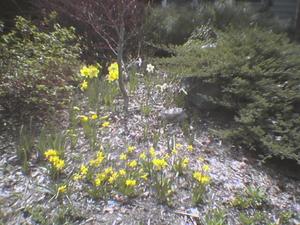 ---
ve vill make you Talk!
Tue Apr 29 12:56:53 2003
Emerson Hospital xrayed my foot to see if there was real damage or just the swelling. The last time I saw this gadgetry up close was when I was playing apprentice to daddy at the Danbury med center - where one of the local docs had just learned the hard way that you can't use a cheap incandescent dimmer on a ballasted film-room light :-) Massive ceiling-mounted gear is kind of impressive in its own right.
The hospital has been very organized and professional. The two issues have been (1) no wheelchairs at emergency (apparently an auto accident came in just before I did, and several extra chairs were delivered while I waited) (2) the emergency room is at the top of a hill, so Laura ended up pushing me up from the overflow lot - with a little help from a passing construction dude, who had noticed the truck :-)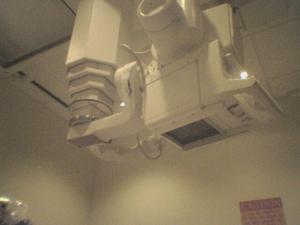 ---
Daffodils in the Dark
Fri Apr 25 22:49:31 2003
We're back from Kauai, pictures etc. to come later (once we all compare and swap.) However, the dutch daffodils Laura planted started blooming right before we got back! This was a night shot commemorating it, on our way out to dinner...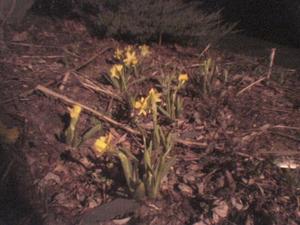 ---
Nimitz-class sushi boat
Sun Apr 6 20:47:44 2003
Mmm, a few of us went to Tsunami for dinner... I don't do raw fish, but they have other good stuff. The presentation was the big thing, in this case...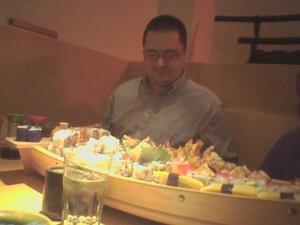 ---
Snow!
Sun Mar 30 22:50:19 2003
Now that it is snowing, perhaps the crocuses will come up. Then the daffodils can get started...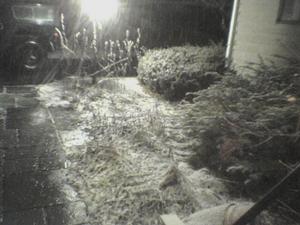 ---
Conspiracies
Tue Mar 18 22:52:04 2003
Coming back from Shabuzen (mmm beef) we passed a door proclaiming "Chinese Masonic Lodge"... interesting given the monotheistic requirements of freemasonry. Jered is showing off the P800 picturephone, but needed to walk halfway accross the street to get a shot he liked, we'll see how it comes out.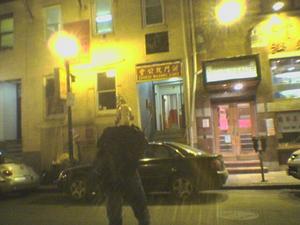 ---
By the truckload!
Mon Mar 10 16:20:02 2003
I saw some "code" driving down
Rt. 2 today.
In other news, SketchUp has supplanted Mac OS X as "the bestest video game ever." Though I have to admit to enjoying Rogue Squadron in Buick mode, too...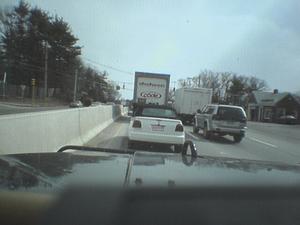 ---
Parking!
Fri Mar 7 10:50:42 2003
I have a real parking space now, woohoo :-) (This is the view from "space dock", or what is listed on the plans as the solarium... btw. anyone know of good floorplan-cad software for Mac OS X?)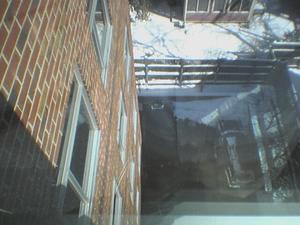 ---
New Office!
Thu Mar 6 17:07:11 2003
I now have a new office, with views up Mass Ave towards Harvard (which is currently lost in the snow :-) and across into Cambridge, for variety... fortunately, I'm not the one who has to stress about this move, so it is all OK.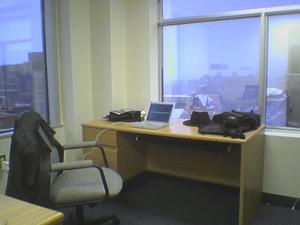 ---
Distraction
Wed Mar 5 16:27:23 2003
It's been unpleasant out, and I've been driving to work more (so as to have the car handy in-town), which has led to less picture-taking. However, I've put another couple of minutes into the tools, and now this has a (primitive, even minimal) RSS feed (in the obvious place.)
Another thought: this is aparently an early "photo moblog." That has too much (or is it just enough?) emphasis on "mob" for my ears, so I'm going to stick to "journal" for now, even if it isn't quite daily...
---
Trains!
Wed Feb 26 14:06:01 2003
Yes, indeed, the tracks that cross the Circles of Death are in use - but the signalling isn't; every time I've seen it, a police officer stops traffic manually (doesn't even use the adjacent crosswalk lights...)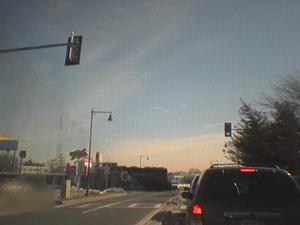 ---
sunshine!
Fri Feb 21 14:04:56 2003
there's lots of snow melting onto the porch, but the screened-in porch is dry and in range of the wireless... and 52 degrees!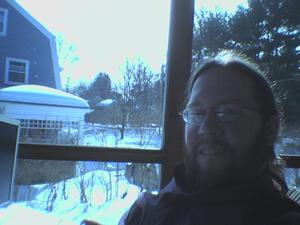 ---
a hoberman sphere the size of your head
Tue Feb 18 03:10:34 2003
Lots of people braved the snow for the 2003 St. Ek-Chuah's Day party...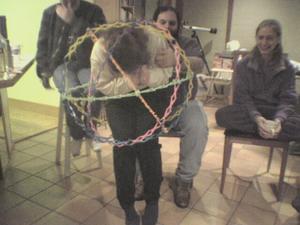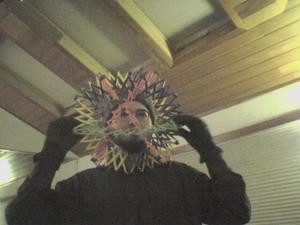 ---
Naked Chandelier
Thu Feb 13 11:39:48 2003
The collective went to Naked Fish, in Saugus, last night. We got our "usual" table - a nice back room with a huge round table, over which hangs this chandelier... I'm not sure the picture captures the visual impact of the lampshades or the pink and blue plastic beads. It made a good situational awareness test - if you didn't comment on it, you hadn't seen it :-)
Of course, the food was excellent (far more interesting than Legal's) as was the service - and being out in Saugus (north of the Christmas Tree Shop, northbound side) there was plenty of parking and the drive was nigh-painless. So we forgive them for the chandelier :-)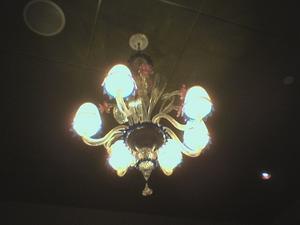 ---
oh look, snow...
Fri Feb 7 13:02:22 2003
Perhaps I'll wait a little before heading out for the weekend...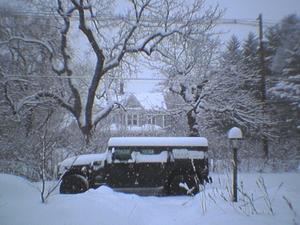 ---
Invisible Man Building Maintenance
Mon Feb 3 16:14:37 2003
(this is on prospect st. in the former ars-digita space, next to Carberry's.)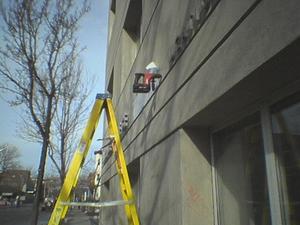 ---
Keep aiming for the stars
Sun Feb 2 06:29:32 2003
Without risk, there is no bravery.
Without challenge, there is no inspiration.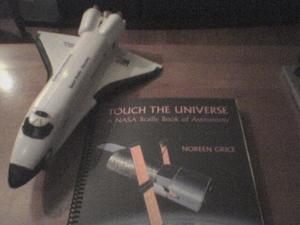 ---
big camera little camera
Wed Jan 29 22:07:25 2003
Cambridgeside galleria, iShrine, has A clever display with a cardboard frame around an iLamp screen, looking like a really big S200 viewfinder. A bit of clever aiming, and the real one displays the same thing, in a life-imitates-art sort of way. (arm courtesy <kcr>)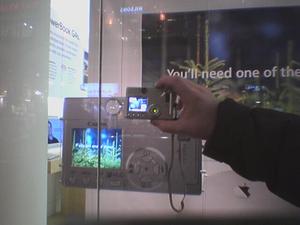 ---
New I-90/Logan connector
Sun Jan 26 18:10:57 2003
I'm no Ravi Jain, but I was quite pleased with the new I-90 direct Ted Williams Tunnel connection, and the corresponding direct return. Of course, the internal construction made finding E terminal still a bit of a trick, and Laura still had a horrible time with security (Yes, ladies and gentlemen, the terrorists have already won, if that level of outright rude behavior is practiced in the name of security. I'm certainly going to see which cruise ships have net, for my next trip to europe...)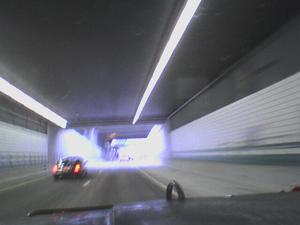 ---
old toy/new toy
Fri Jan 24 11:38:06 2003
The Cambridgeside Galleria Apple store had the 12" Powerbooks in stock, and a discount deal on accessories. After fondling the keyboard (and deciding that it is in fact large and comfortable, if not clicky) I ordered one. 2-4 weeks.
Desired accessories: Canon Elura, Final Cut Express, VirtualPC (for linux), 12v adaptor, and an as yet undecided bluetooth phone...
The top laptop is of course the Panasonic ToughBook CF-17. Now that I have a docking station for it, it will probably get a permanent mount in the truck...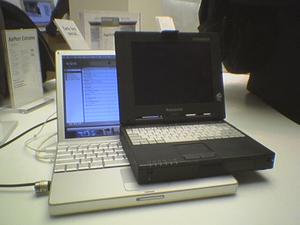 ---
origami goldfish!
Fri Jan 24 11:37:49 2003
I brought my origami calendar to work. I've decided I can skip the ones I don't like, and use them to do more of the "good" ones. In spite of the unorthodox cuts, I like the goldfish :-)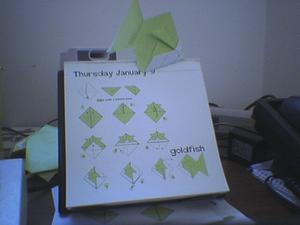 ---
bricks 'r' us
Wed Jan 22 11:30:37 2003
They're finishing up the brick repair at Alewife. I didn't see the toys-r-us shopping cart this time, perhaps they're done with it.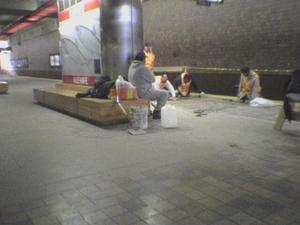 ---
web pages are more elastic than we think
Wed Jan 22 11:28:40 2003
Last night, I stumbled across some javascript designed to take the referer[sic] and highlight the keywords searched for, where they appear in the page, sort of like the cached page does. A light went on, and I converted it to a bookmarklet... in the process of understanding it, I added alert() calls as printf-style debugging, which served to single-step as well... watching the page mutate was enlightening.
---
Sort-of Holiday
Mon Jan 20 10:06:13 2003
It is Martin Luther King day. Only the first deck of Alewife Garage was full, the second was more than half empty (at a time of morning when the four main decks are often full and they're packing people in to the auxiliary spaces.)
I will probably take tomorrow off instead, to avoid walking to the office through the "arctic chill" and possible -15F wind chill...
I wonder if anyone else will be there... "having coworkers" is a big part of the reason I go to work at all.
Hummer patrol: 1 bright yellow 4dr wagon, climbing Belmont hill on rt. 2.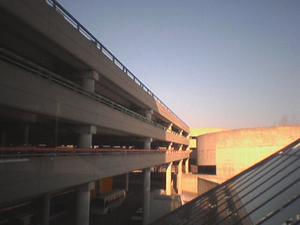 ---
party: demolition
Mon Jan 20 00:36:50 2003
gingerbread house under attack...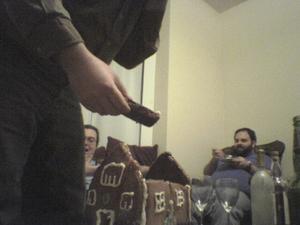 ---